Manish Malhotra NFTs with FDCI x LFW & WazirX sold out in seconds
Oct 7, 2021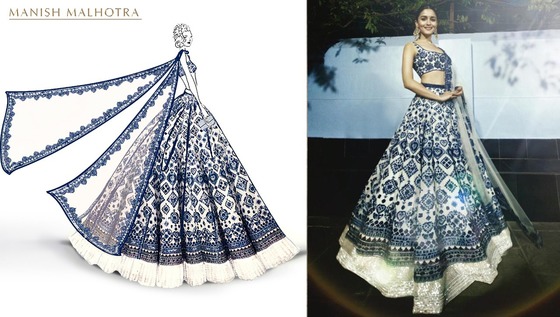 Manish Malhotra forays into the world of NFTS with 5 NFT drops. Receives overwhelming response with all NFTS selling out within 2 minutes - one of the fastest sales in 12 seconds
Revolutionizing the Indian fashion industry, WazirX NFT Marketplace joined hands with FDCI X Lakmé Fashion Week and introduced Non-Fungible Tokens (NFTs) by India's leading couturier Manish Malhotra. Non-Fungible Tokens have captivated the world of fashion and art, creating a market where digital versions of garments and accessories are linked to unique blockchain hosted tokens. With India being one of the most promising markets for creators as well as collectors, this partnership marked the entrance of India's fashion industry in digital assets - a step towards integrating tech innovations with fashion via blockchain technology.
An interesting and informative discussion took place to highlight the importance of the collaboration for this programme. The panellists for the discussion were moderated by Sujata Assomull, Journalist and Author. On the panel were Manish Malhotra, India's leading couturier, revivalist and costume designer, Jaspreet Chandok, Head RISE Fashion and Lifestyle, Nischal Shetty, CEO & Founder WazirX and Vishakha Singh, VP at WazirX NFT Marketplace. The panellists broadly discussed what exactly are NFTs as well as the Lakmé Fashion Week's partnership with WazirX NFT Marketplace. In addition, the talking points included, how NFTs can be a parallel revenue generation medium for artists, the role of NFTs in revolutionizing Indian fashion.
Iconic designer Manish Malhotra has led the industry in this new revolution by creating 5 exclusive NFTs on the WazirX NFT Marketplace in collaboration with FDCI X LakméFashion Week which were launched and sold within seconds, a record time.
Manish Malhotra said, "NFTs are a complete gamechanger and absolutely something that the Indian industry needs to consider and move towards. Realizing my NFT's got sold in seconds, I was grateful to accomplish this technological breakthrough. I can see so many new possibilities emerge for artisans and the creator's community. I'm looking forward to further explore the extent of the new-age technology."
Vishakha Singh, VP, WazirX NFT marketplace said: "Globally, designers have commenced making a statement using NFTs to engage with fans and patrons in the form of loyalty rewards. With the trend of NFTs being at its nascent stages in India, we believe that there is a room to understand and create awareness around the different use cases of NFTs. We have seen a promising response to art and music-based NFTs on our platform - that propelled us further to explore newer segments, with fashion being the most recent industry to jump the NFT bandwagon. The fashion NFT space is fairly untapped in India and has great potential to grow. The success of the NFTs dropped by Manish Malhotra proves that this entire process was indeed a 'The Indian NFT Revolution in Fashion'. We are glad our platform could reach out to the fashion and crypto enthusiasts with Manish's NFTs."
Pioneering the NFT segment in South Asia, WazirX NFT marketplace, India's most trusted platform for designers, artists and creators was launched in June this year and has since then built multiple successful use-cases with art and music. With fashion-themed exclusiive NFTs being the latest introduction to the marketplace, the ecosysytem is set to get a further boost.
The NFT craze has swept through the fashion world and this unique collaboration will revolutionise the Indian fashion industry.
The path-breaking initiative is a testament to India's growing adoption in the NFT space. Riding on the NFT wave, this association marked a milestone in building an eco-system to encourage designers to integrate NFTs into their business strategy and open avenues to reach a wider and newer audience base.